Eighteenth Century Pringles: James Pringle
His heir, James the 7th Laird, had the forfeiture rescinded by an Act of Parliament in 1690 and the land restored and much of the money returned with interest. He went on to become a Captain in the defence of the country after the Earl of Mar raised the standard of James the Pretender at Braemar in 1715.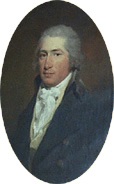 James died 20 years later and was succeeded by George, his heir and the 8th Laird, who was a man of retiring habits and appears to have lived quietly with his unmarried sisters at Torwoodlee; he died unmarried and was succeeded by his nephew.
In 1780 James Pringle of Bowland, an estate adjoining Torwoodlee, was served heir to his uncle George in the lands and (now since 1673) Barony of Torwoodlee and became the 9th Laird. He was aged 21 and had been educated at Cambridge with a view to the law which he then gave up.
In 1783 James built a new mansion house at Torwoodlee and abandoned the 1601 tower, as the need for defence had dwindled, and in 1788 sold Bowland and bought the lands of Buckholm and William Law which had belonged to another branch of the Pringles from 1540 to 1713.
He was a great friend of Sir Walter Scott's and lived to a great age for the time (81 years), dying in 1840 having served as Convener of Selkirkshire for more than 50 years and having been Vice-Lieutenant for 3 years.