Seventeenth Century Pringles: George Pringle
Dying in 1637, George leaves Torwoodlee to James, the 5th Laird, who becomes a Member of Parliament in 1641 and is appointed a collector of Selkirkshire's quota to maintain the Scottish army in Ireland, England being too unsettled to play her part at this time. Along with many other appointments James is kept busy until he dies in 1658.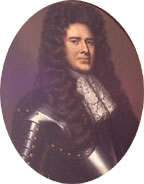 His heir, another George, the 6th Laird, had more trouble staying out of the public eye than in it. From the restoration of the Stuarts in 1660, 'obstinate authority sought to impose Prelacy upon an obstinate people who would have nought but Presbytery'.
The Earl of Argyle said that he was willing to sign the Test Act, the terms of which were contradictory, although he did not understand it and was imprisoned in Edinburgh Castle for his cheek and sentenced to death. His friends immediately set about a plan of escape and, in time, the Earl came to Torwoodlee on his way south of the border and Pringle gave him meat, money and a guide thus becoming a wanted man himself.
After being implicated in a plot to defend the country from Popery, George Pringle fled to Holland in 1684 along with many others and the lands of Torwoodlee were confiscated by the Crown.
At this time, George's son and heir, James aged 16, was imprisoned for months, threatened with torture and immediate excecution if he did not tell who informed his father of the coming of the party to apprehend him; after some time he was admitted to bail of £5000.
At last, in 1688, the Prince of Orange swept into power, backed by many including George Pringle and Sir William Scott, younger of Harden. George died in 1689 and the author of "The History of Selkirkshire" calls him Selkirkshire's greatest son; had he lived a little longer he would no doubt have shared in the rewards conferred on his compatriots like Sir Patrick Hume who was created Earl of Marchmont.